The University of Nairobi had 4,107 students graduate three months ago, in September, while 8,428 graduated during the 62nd graduation ceremony held on Friday 20th December 2019.
This makes a total of 12,535 graduates from the University of Nairobi in 2019.
The 62nd graduation ceremony was an extraordinary graduation as a Higher Doctorate Degree of Laws was conferred to Prof. Annie Patricia G. Kameri-Mbote. Prof. Kameri-Mbote is the first woman to be awarded a Doctor of Laws of the University of Nairobi (UoN).  
Prof. Kameri- Mbote has supervised over 100 masters theses and thirteen PhD theses. She has been cited 2,212 times according to Google scholar, where her publications have earned her an h-index of 23 and an i10 index of 53.
On the other hand, we also celebrated the best student and valedictorian during the December 2019 graduation. Ms. Bridget Neema Muse, a Bsc Human Anatomy student took the award of the valedictorian at the graduation ceremony. Ms. Bridget studied at the College of Health Sciences. 
The six colleges of the University of Nairobi had these number of graduates respectively: College of Architecture and Engineering (CAE) 208, College of Agriculture and Veterinary Sciences (CAVS) 287, College of Biological and Physical Sciences (CBPS) 168, College of Education and External Studies (CEES) 694, College of Health Sciences (CHS) 952, College of Humanities and Social Sciences (CHSS) 5,040 and Open, Distance and e-Learning Centre 1,077.
The degrees conferred and diplomas awarded at the 62nd UoN graduation were:
Diploma Awards 747,
Bachelor Degree Awards 5,413,
Postgraduate Diploma Awards 54,
Master Degree Awards 2,130,
Fellowship Awards 27,
Doctor of Philosophy Degree Awards 56
and Higher Doctorate Degree Award 1
You can access the 62nd UoN graduation booklet here.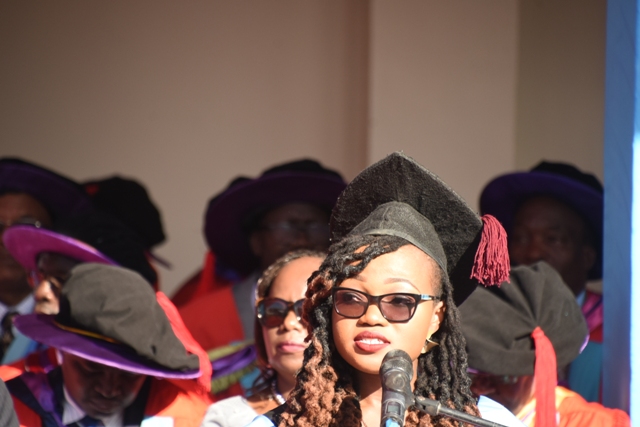 Bridget Neema Muse, valedictorian at the 62nd UoN graduation ceremony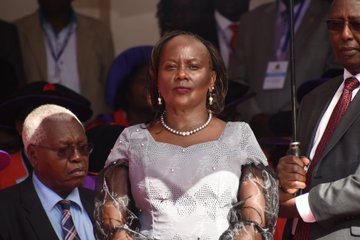 Prof Annie Patricia G. Kameri-Mbote just before conferement of Doctor of Laws 
Prof Annie Patricia G. Kameri-Mbote awarded Higher Doctorate Degree, Doctor of Laws